Capital Cardiology Associates
The Canadian Healthcare System
The Pro's and Con's of Canada's healthcare system
Canada's health-care system is a point of pride for most Canadians. In 1947, the government of Saskatchewan introduced a province-wide, universal hospital care plan. By 1950, both British Columbia and Alberta had similar plans. When the Medical Care Act passed in 1966, the Canadian government began to fund public healthcare. Within six years, universal coverage for medically necessary health care services provided on the basis of need, rather than the ability to pay became a right for all Canadians.
During the Obamacare town hall debates in 2008 and with every election cycle since, Americans have heard quite bit about the Canadian health care system. I sat down with Dr. Connor Healey, a board-certified cardiologist during a recent episode (Sunday, September 9th) of HeartTalk presented by Capital Cardiology Associates to discuss the pro's and con's of the Canadian healthcare system. Dr. Healey is from Eastern Ontario Canada and admits to being an Ottawa Senators fan. "I was fortunate because my father was a family physician but I did have a family doctor for regular visits and immunizations," Healey noted. One of the benefits touted about the Canadian system is that it's "free." Canada's healthcare is "single-payer", meaning that coverage is publicly-funded by federal or provincial (state) taxes. An estimate from 2017 figured the average Canadian paid about $5,789 for health care.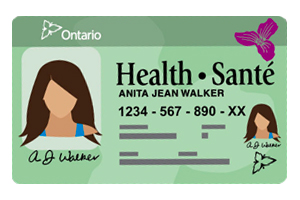 Example of Ontario health card
In Canada, health coverage is paid by the government meaning that individual visits to the doctor or hospital come without a bill. As Dr. Healey outlined, "I broke my hand playing hockey. My parents took me to the hospital, it was my first visit to the Emergency Room. I was treated and when I was ready for discharge; we left. There was no bill, nothing to pay to an administrator. All of you tests, procedures, x-rays, blood work, cat scan, prescriptions, everything involved with treatment was covered as long as you had your provincial card which demonstrates you a resident of that province, for me that was Ontario, that's all it took."
Another myth about the Canadian system is that everything is covered. Sadly, that is not the case. "There is supplemental insurance you can get," pointed out Dr. Healey. Approximately 65% of surveyed Canadians have private supplemental health insurance, mostly through their employers. An additional 11% of people have access to supplemental services through government-sponsored insurance plans. "For instance, medications for the most part are not covered across the board." Nearly one in four Canadian households reports that someone in that household is not taking their medications because of inability to pay. "Now, in general, they are much cheaper and that is why a lot of people venture up to Canada or order from a Canadian pharmacy. But there are insurance plans available that would cover that and a lot of those plans will also take care of vision and dental. That is very similar to what we have in America," remarked Dr. Healey.
In the United States, our health system is comprised of government programs (Medicare and Medicaid) available to those who qualify and private medical insurance companies. About 65% of Americans, according to a 2017 US Census report, receive health care that is provided by employers (private companies). "I've been a patient in America as well. I had another hockey injury… maybe I should stop playing," shared Dr. Healey. "My experience was different, $50 co-pay, signing my life away on different forms, big bill at the end – fortunately my insurance covered most of it. But I also had regular checkup appointment recently and that experience reminded me of a visit back home."
Healthcare affordability is a major issue in the US. Despite legislation in 2010 that moved the country closer to achieving quality, affordable healthcare, costs have continued to rise and nearly 26 million Americans are still uninsured according to the Congressional Budget Office.
The question of the level of quality of care in "public" health systems during private systems frequently comes up. "I would say in terms of in the quality of care from physicians and nurses, it's equal," said Dr. Healey. "Physicians trained in Canada who then come down to America or vice versa, you really don't notice a difference." Dr. Healey attended medical school at St. George's University in Grenada where he graduated cum laude. He completed his internal medicine residency and cardiovascular fellowship at NYU Winthrop Hospital on Long Island.
Canadians have recently begun to address the challenge of long wait-times. Dr. Healey gave the following example, "you cannot make an appointment with a specialist like your cardiologist in Canada, you would have to be referred by your primary doctor. Now you can still request who you want to see but it make take one, two, or three months to see that specialist. To control the costs, Canada limits the amount of physicians that are available and the amount of testing that can be ordered. MRI is probably is the most famous example. If you need a test for an emergency or life-saving procedure, you will get it when it's ordered. If you injury yourself playing ultimate frisbee, you could wait 6-8 weeks to have that test and by then, perhaps it's too late. That's an instance where Canadians will cross the border, pay out of pocket, and get that elective MRI."
Since health care is essentially a right in Canada, long-wait times and health-care delivery are issues that have been taken to the Supreme Court of Canada. It's an area that government is addressing considering the growing aging population that lives in primarily in dense city areas; it is an hot-button issue. "This weekend I was speaking with a colleague of mine who was trained in Buffalo but is now in practice up north," said Dr. Healey. "He doesn't seem inhibited at all. Very specialized testing like cardiac MRI (again, back to the MRI example) is probably limited but if he wants to order a stress test, cardiac cath, CAT scan, all of those are readily available. The caveat in Canada is that they don't have to get authorization to have the test. Because it is a single-payer system, the test is, essentially, automatically approved."
As we navigated through the list of pro's and con's, it was apparent that when comparing the US and Canadian system there was no clear winner. I asked Dr. Healey with everyone objectively looking for the best model, did a perfect system exist? "I don't know if a perfect system exists, but having been to Europe there is a program that incorporates a model that works," he shared. "It's a hybrid system that offers universal healthcare coverage for everybody, so know matter what your means may be, your appointment with your doctor or hospital visit is covered. Often there is a small co-pay involved to provide some mild deterrent to prevent people from abusing unnecessary medical care. But, they also have a second private system that is run very similar to what we have the States. If that's covered by your employer, tremendous. It also works if you have to pay out-of-pocket, that also works. And that off loads the burden on public system while providing and influx of cash that is necessary to fuel the public system. I believe a two-tiered system is the way to go but I also believe that there should be blanket coverage to start."
For all of the debate that we have heard in the past 10 years over healthcare in the United States, it was a rewarding experience to have a productive discussion with a physician engaged on the topic. Dr. Healey reminded me that at their core, medical professionals in both countries are on the side of patient care. "Doctors, for a collective group of individuals with experience on this issue, we are awfully quiet and we generally sit on the sidelines. I don't know if it's because we are busy treating patients or are more focused on patient care which is what we enjoy. We are also far outnumbered when it comes to lobbyists in Washington or in Albany. And because of that, I don't think our voice is heard. I enjoy talking about healthcare and enjoy learning about how we can improve not only the quality of care but also the availability of care for everyone. That's what our passion is as doctors, caring for people."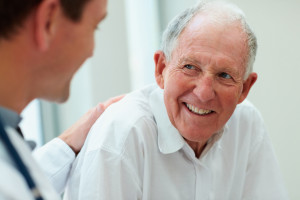 Written by: Michael Arce, Host of HeartTalk presented by Capital Cardiology Associates
Any medical information published on this website is not intended as a substitute for informed medical advice and you should not take any action before consulting with a healthcare professional.