The Need For Nurses – Now
"Nurses are the backbone in so many instances that deliver direct patient care."
A perfect storm is developing that will lead to a national nursing shortage in the coming years. Since 2009, The American Association of Colleges of Nursing has projected "a shortage of Registered Nurses (RN) that is expected to intensify as Baby Boomers age and the need for health care grows." They have identified four areas that are contributing to the oncoming demand: lack of interest in nursing, the aging population, the expanding roles of nurses in primary care due to health care policy changes, and the ongoing bottlenecks in nursing education. Health care professionals are working to find a solution to address the two to three million Baby Boomers who will age into Medicare every year for the next 30 years. Joanne McCarthy, RN and Operations Manager of Capital Cardiology Associates, described how the shortage would impact the patients level of care. "Most of the time, when patients are complaining about things in the hospital, it's about not getting enough attention. I think that reflects on the staffing shortage. I recently shared a presentation on Joy in the Workplace. 50% of physicians complain of burnout, over a third of nurses on their first year on the job are looking for a new employer based on exhaustion. I think the burnout is because there are not enough nurses to go around. When hospitals look at overhead, inevitably that is going to trickle down to how to try and do more with less."
"Nurses are the backbone in so many instances that deliver direct patient care."
The need for new nurses
The median age of RNs is currently 46 years old with the largest group now in their 50s. A projected one million RNs that will retire by 2030, leaving severe shortages of nurses in areas of the country. A 2017 report from The National Center for Health Workforce Analysis states that by 2030, the number of registered nurses needed in the United States is estimated to skyrocket by 28.4% from 2.8 million to 3.6 million. California is expected to be short the most registered nurses (45,500), while Alaska is projected to have the most job vacancies (22.7%). In other industries, there is a future generation ready to step in to fill the voids. However, in nursing, there are education barriers and unique challenges facing the new wave of providers. Traditionally, young people interested in a nursing career would volunteer at their local hospital. Maryellen King, NP with Capital Cardiology Associates, began her career in high school. "I was working in a local hospital, bringing books to patients, helping the nurses with changing the linens, giving patients water, and I really liked what I was doing. I am a caregiver at heart. From there, I went to a diploma school of nursing, which that option of living and learning at the hospital is not available anymore. If you want to be a registered nurse now, programs are usually in college — starting with an associates degree program, then you can sit for your nursing license exam or baccalaureate degree. There is a push today for more nurses to be bachelor's prepared."
What is a Registered Nurse? Get the answers in this video.
In 2017, New York State enacted the BSN in 10 Law based on the recommendation of The Institute of Medicine, who called for at least 80% of the RN population to be baccalaureate-prepared by 2020. Nurses who graduate from a New York State diploma or associate degree program must now obtain a baccalaureate degree in Nursing within ten years of becoming a nurse. This new legislation which was intended to improve the overall quality of care by providing better patient outcomes from more educated nurses has created another barrier in the profession: a lack of teachers.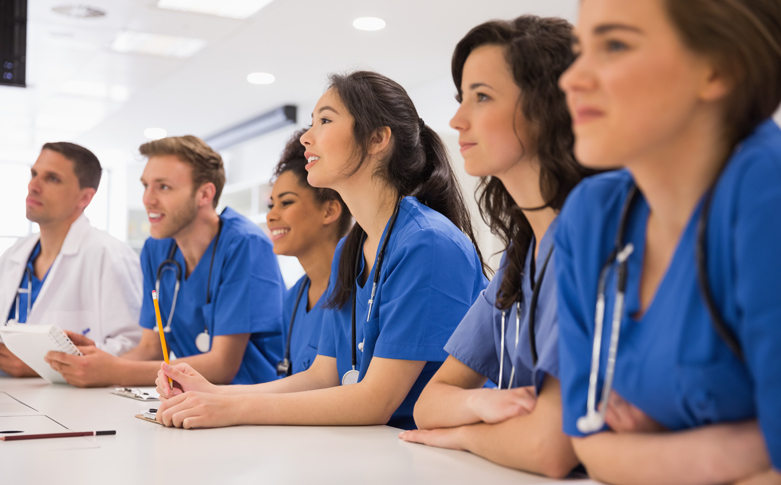 Martha Desmond, RN is the Nursing Department Chairperson at Hudson Valley Community College. She recalls the push for higher education for nurses that began in 1964 when the American Nurses Association House of Delegates first adopted a motion supporting baccalaureate education. "I've been a nurse for 40 years. When I graduated, a long time ago, they spoke about this. The whole thought on the BSN in 10, is that the theory that is offered for the bachelor's degree is very important. What's offered on the associates level is skill sets and critical thinking, but you are not getting the next level of theory or the in-depth medical knowledge that comes with the bachelor's program. Politically, this has been pushed for years. I think this makes for a better nurse, allowing them to think better on their feet and provide better patient care."
The BS in 10 law is designed to promote higher education for RN's while also creating leadership opportunities in education, management, and patient care. The legislation also encourages continuous learning. The medical field is always evolving with innovations and technology, driving new procedures and methods of care and treatment. As in most professional careers, current certifications and continuing education are valued among employees and employers. Currently, New York is the only State with such legislation, but New Jersey and Rhode Island have put forth BSN in 10 bills that have not passed. North Dakota had a similar law in 1987 but was forced to abandon it in 2003 due to a shortage of nurses. There are also 33 states known as "compact states" that recognize a valid RN license obtained in another compact state, allowing that nurse to practice without further requirements.
It is fair to note that with the BSN in 10 law in place, New York is the Top 5 States with the least demand for nurses in 2030. The projections show an "overage" of around 18,000 more nurses than what the market calls. "Where I see the problem is on the education side," shares Martha Desmond. The active RN's aren't the only ones looking at retirement: one-third of the current nursing faculty workforce in baccalaureate and graduate programs are expected to retire by 2025. "If we don't start paying the educators more, there will be a shortage of younger faculty. That's my fear. What's going to happen to nursing educators?" The American Associate of Colleges of Nursing reported in March 2017 that the average salary for a master's prepared Assistant Professor in schools of nursing was $78,575. The average salary of a nurse practitioner with that level of education is $97,083.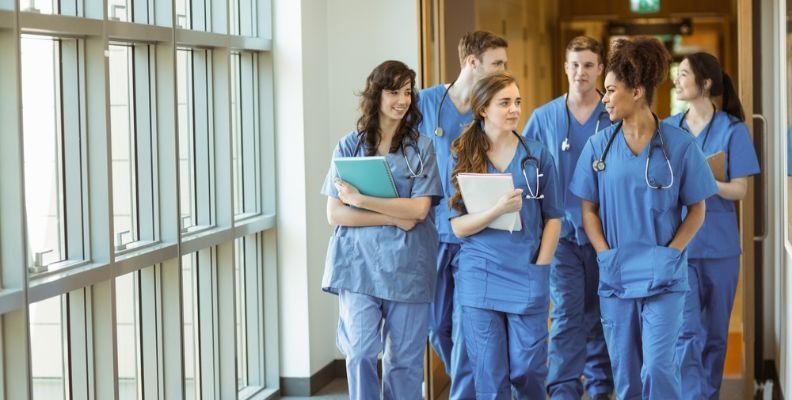 Navigating through the perfect storm
Many prospective nursing students seek nursing programs at community colleges or private schools, in large part because nursing schools run by hospitals closed in the mid-1980s. At that time, community colleges became a popular alternative. "Hudson Valley's applicant pool has always been significantly high. I think it's because of the cost and value of the program. For example, this year, we have had 900 applicants for our fall program that teaches 100 students," states Desmond.
Hudson Valley Community College also created an option based on the growing demand of students returning to school for an education needed to start a new career path. The Advanced Option allows eligible students (BA degree) to begin the Nursing program in the summer, condensing two core clinical nursing courses (Nursing 1 and Nursing 2) in the first term. They'll go into the traditional Nursing 3 in the fall and complete their studies the following spring with Nursing 4, where you will have the option to start taking courses towards your BSN degree through Empire State College. "I'm getting students with degrees in Biology, Psychology who are saying, 'What I am going to do with this? I thought I wanted a career in research, but it's not for me.'  They want to be a nurse. Because of the demand of these students, we have created this option," says Desmond.
There are also online RN to BSN programs available to students. SUNY Empire State College (ESC) RN to Bachelor of Science in Nursing program for RN's looking for part-time, online, or face-to-face courses. Most ESC students enroll on a part-time basis and complete the program in about 24-36 months. The University of Buffalo offers a two-year track BSN programs. Graduates report high satisfaction with the overall program, calling it a "transformational" experience. A BS in 10 years actually takes less time than you think; once you've completed to your associate's degree in nursing certification, you are more than halfway to your BSN.
Looking back on the factors leading to the projected nursing shortage, it's refreshing to learn that there is still interest in the field. "I wasn't thinking about how far I could go with nursing, I was thinking about my options," recalls Joanne McCarthy. "The flexible hours, you don't have to work in a hospital, and when most women have to consider the needs of your family — when you have to balance that as a nurse, you still have a good job and make time to be home to take care of your family as well. When I worked three 10 hour shifts or three 12 hours, I looked at it this way; you're out more but your home more. I personally think for those who have to meet the demands of family and career — it's a great field. You can be a school nurse, a camp nurse, work for an insurance company, for a doctors office, you can work for the State. Some jobs let you work from home because of Telemedicine. There are plenty of options. I don't know why someone wouldn't consider nursing. And, if you want the critical medical experience, you can do that too."
Capital Cardiology Associates currently has openings Medical Assistants and Registered Nurses. To view our opportunities, click below​.
Written by: Michael Arce, Marketing Coordinator, Capital Cardiology Associates
Any medical information published on this website is not intended as a substitute for informed medical advice, and you should not take any action before consulting with a healthcare professional.